Inside the Base Glaze
The variables in the base glaze, and how we separate them out to study their effect
There are three variables in the base glaze:
Flux (the melter)
Alumina (the stiffener)
Silica (the glass former)
These three descriptions, melter, stiffener and glass former, explain the main role of each, but it is important to understand that they do much more than melt, stiffen and form glass. The complete story is revealed by looking at the fired grid tile.
The Grid
One of the advantages of this method is that it provides a way of looking at the effects of flux, alumina and silica in a simple graph format. We want to change just one thing at a time so we can see cause and effect.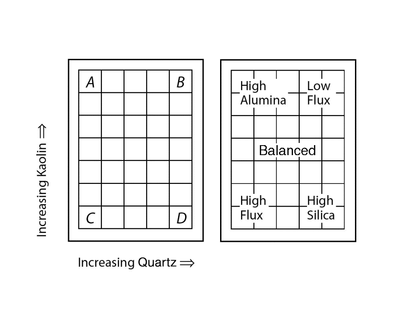 We can lay out two independent variables on this rectangular format and have one variable going left to right (Quartz) and the other bottom to top (Kaolin). We move up the grid by adding kaolin, which is our source of variable alumina. We move across the grid from left to right by adding quartz, which is our source of variable silica.
Document Actions